Overview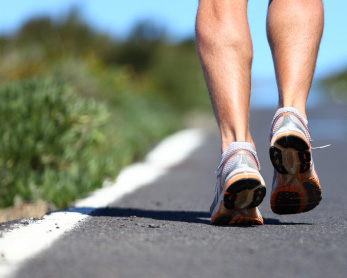 The Achilles tendon is found in the back of the leg above the heel, and is the largest tendon in the body. It connects the calf muscles to the heel bone and is used when walking, running and jumping. A rupture of the tendon is a tearing and separation of the tendon fibers. When a rupture of the tendon occurs, the tendon can no longer perform its normal function. A common issue related to a tear is the inability to point your toe.
Causes
The most common cause of a ruptured Achilles' tendon is when too much stress is placed through the tendon, particularly when pushing off with the foot. This may happen when playing sports such as football, basketball or tennis where the foot is dorsiflexed or pushed into an upward position during a fall. If the Achilles' tendon is weak, it is prone to rupture. Various factors can cause weakness, including corticosteroid medication and injections, certain diseases caused by hormone imbalance and tendonitis. Old age can also increase the risk of Achilles' tendon rupture.
Symptoms
Tendon strain or tendon inflammation (tendonitis) can occur from tendon injury or overuse and can lead to a rupture. Call your doctor if you have signs of minor tendon problems. Minor tenderness and possible swelling increases with activity. There is usually no specific event causing sudden pain and no obvious gap in the tendon. You can still walk or stand on your toes. Acute calf pain and swelling can indicate a tear or partial tear of the Achilles tendon where it meets the calf muscle. You may still be able to use that foot to walk, but you will need to see a specialist such as an orthopedic surgeon. Surgery is not usually done for partial tears. Sometimes special heel pads or orthotics in your shoes may help. Follow up with your doctor to check for tendonitis or strain before resuming activity, because both can increase the risk of tendon rupture. Any acute injury causing pain, swelling, and difficulty with weight-bearing activities such as standing and walking may indicate you have a tear in your Achilles tendon. Seek prompt medical attention from your doctor or emergency department. Do not delay! Early treatment results in better outcome. If you have any question or uncertainty, get it checked.
Diagnosis
The diagnosis is usually made on the basis of symptoms, the history of the injury and a doctor's examination. The doctor may look at your walking and observe whether you can stand on tiptoe. She/he may test the tendon using a method called Thompson's test (also known as the calf squeeze test). In this test, you will be asked to lie face down on the examination bench and to bend your knee. The doctor will gently squeeze the calf muscles at the back of your leg, and observe how the ankle moves. If the Achilles tendon is OK, the calf squeeze will make the foot point briefly away from the leg (a movement called plantar flexion). This is quite an accurate test for Achilles tendon rupture. If the diagnosis is uncertain, an ultrasound or MRI scan may help. An Achilles tendon rupture is sometimes difficult to diagnose and can be missed on first assessment. It is important for both doctors and patients to be aware of this and to look carefully for an Achilles tendon rupture if it is suspected.
Non Surgical Treatment
The most widely used method of non-surgical treatment involves the use of serial casting with gradual progression from plantar flexion to neutral or using a solid removable boot with heel inserts to bring the ends of the tendon closer together. The advantage of a solid removable boot is that it allows the patient to begin early motion and is removable. Wide variability exists among surgeons in regards to the period of absolute immobilization, initiating range of motion exercises, and progression of weight bearing status.
Surgical Treatment
This condition should be diagnosed and treated as soon as possible, because prompt treatment probably improves recovery. You may need to be referred urgently to see a doctor in an orthopaedic department or accident and emergency department. Meanwhile, if a ruptured Achilles tendon is suspected, you should not put any weight on that foot, so do not walk on it at all. A new piece of research found that surgery and conservative treatment actually gave equally good results, when patients were also given early mobilisation treatment using a brace. If an operation is needed, there is a type of surgery called percutaneous, which uses smaller cuts than the traditional operation. This seems to reduce the risk of getting a wound infection. After surgery, a brace seems to be better than a plaster cast in terms of faster recovery and return to normal activities, a lower complication rate and patient preferences.
Prevention
Here are some suggestions to help to prevent this injury. Corticosteroid medication such as prednisolone, should be used carefully and the dose should be reduced if possible. But note that there are many conditions where corticosteroid medication is important or lifesaving. Quinolone antibiotics should be used carefully in people aged over 60 or who are taking steroids.